Ridgitrack is an extension to the popular Ridgidrain surface water drainage piping system, it has been specifically designed for rail applications and is approved for use within London Underground. Available in sizes 150 - 600mm plain ended or in sizes 400 - 600mm integrally socketed, Ridgitrack can be supplied perforated, half perforated or un-perforated and can be used in conjunction with all Ridgidrain couplers, seals, bends, junctions and other accessories.
Performance
Ridgitrack is manufactured to SN8 with a predicted life span in excess of 60 years. HDPE pipework is resistant to the most common chemicals and is ideal for surface water drainage applications.
Applications
Ridgitrack for trackside drainage is approved for use for London Underground for trackside drainage within access, 6 foot areas, UTX Crossings and sub-surface (S12) areas. Ridgitrack can also be used for above ground rail drainage applications.
Key Benefits
Full range of plain ended and integrally socketed pipes and fittings from 150mm to 600mm
London Underground approved for drainage renewal works
Structured wall design for high ring stiffness and strength
Smooth bore giving excellent hydraulic properties
Supplied in 6m lengths for quicker installation
Longer lengths so fewer joints for improved resilience to leakage
Light weight for easier handling and installation, reducingproject timescales
Withstands ground movement and differential settlement
Reduces CO2 consumed in production, transportationand on‑site handling
Incorporates recycled plastic

Literature & Technical info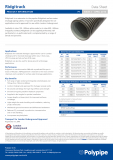 pdf (763.4 KB)
Ridgitrack Datasheet